Damages in packaging can sometimes feel never-ending. It usually costs companies twice as much as they realize because for every touch point of the return it takes away time processing and churning out new orders. Here we break down some of the areas you can familiarize yourself with to better prepare your team to tackle those damage areas:
Shipping Boxes
One of the most important places to start looking for damage is with the shipping box. It is the easiest thing for a buyer to shop around for but not all boxes are created equally. Knowing the differences and creating a standard for your company will be imperative to low to zero damage rates.
Strength
Cartons are measured in strength in two ways: Edge Crush Test (ECT) or BS (Burst Strength). Both can also coincide with wall thickness like singlewall, doublewall, or triplewall.  ECT is going to tell you the overall stacking strength of boxes. If you are palletizing or oftentimes stacking a lot of product on top of one another and the box corners are collapsing you might need a higher ECT box. The BS measurement is how much internal or external pressure it takes to damage the side walls of a carton. ECT and Burst Strength are not interchangeable although many places only offer one or the other and will substitute with them. But, keep an eye on this factor especially if damage has creeped up seemingly out of nowhere.
Box Type
Box types are going to offer different reinforced angles. The standard RSC is universally great, but right-sizing your box and looking at how an item is packed could get you in a better fitting box.
Recycled Content
More and more often we are finding higher rates of recycled content in boxes. Almost all boxes have at least a small amount of recycled content but when you have boxes with higher percentages the fibers are shorter and the overall box is going to suffer in strength.
Tape/Sealing
How you seal your box could impact the overall integrity of the box. Choices can range from glue, acrylic, hot melt or water activated tape. Each has different strengths (and weaknesses) depending on your production line, atmosphere, and long-term storage. We look at the weight of your product, the temperature you seal and store your products (short or long-term), and the type of box you are sealing when making a tape recommendation. Not all tapes fit every application, and your box impacts the type of tape you can use more than you might think.
Void Fill & Cushioning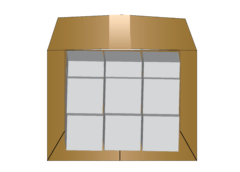 Void fill and cushioning are generally both used within a shipment but aren't always different items. The UPS/FEDEX rule of thumb is to allow 2″ of cushioning between the item and the box wall. That cushioning can be the same material you wrap your product with or it can be void fill to eliminate that extra space for the product to shift into during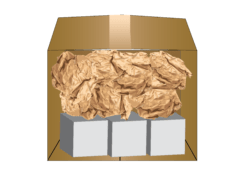 shipment. Void fill can be foam, crumbled paper, or airbags whereas cushioning is oftentimes bubble wrap, foam molds, or paper pad wrapping.  We see customers use a combination of both with great success.
Package Weights
After everything you have learned so far about fighting packaging damage the package weight will help direct you to what kind of carton, tape, and void fill/cushioning you will ultimately need to be successful. It is important to also look to see how the weight is distributed in the box to prevent hard shifts during shipments or excessive pressure on the bottom or top of the box as easy breaking points.
Protective Packaging
If the damage is occurring on the item itself it may just be you need a simple poly bag or protective film to help protect the surface from those friction marks. This extra barrier between your product and the packaging can make a big difference in damage reports by end-users.
Shipping Methods
How you ship your product might tell you how much protective packaging you may need. For instance you might be delivering products on your trucks and not need to think about hard shifts from tumbling down a conveyor belt in a distribution hub. But, if your product has any chance of going on a common carrier it is best to pack for those instances. Customers may not tell you they re-shipped your product, but they could still claim damages if shipped along to their own end-user.
Pallet Configuration
This last area for damage may not apply to you, but if you are palletizing your products to ship out it is important to look at how the items are getting stacked and secured. You could have an A, B or C load and all of them have different considerations. For instance if you are using stretch film on an A load with light-weight items you will need a stretch film that doesn't crush the corners. Or, if you are shipping a C load you might need a film that has high puncture resistance for sharp, out of place corners to connect between layers. Recognizing these vulnerable shipments will help you budget appropriately for successful shipments everytime.
Damage can occur anywhere in the packing and hipping process. Now that you know some of the highest areas of damage in packaging you can make more predictable, long-term cost saving decisions for your company.