Addressing material handling is one of the easiest ways to decrease worker comp claims on your floor while at the same time increasing productivity and morale.  Liberty Mutual's 2022 statistics ranks "Overexertion involving outside sources" first among the leading cause of disabling injury. This category includes injuries related to lifting, pushing, pulling, holding, and carrying objects and costs businesses nearly $13 BILLION in direct costs, and accounts for 22% of the overall national burden.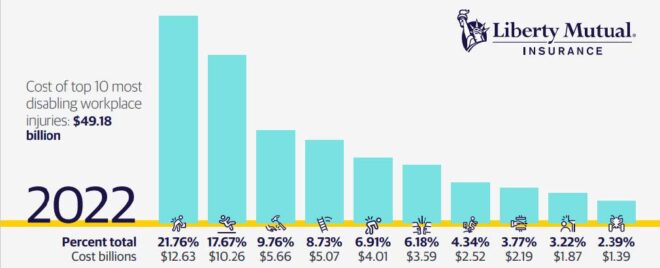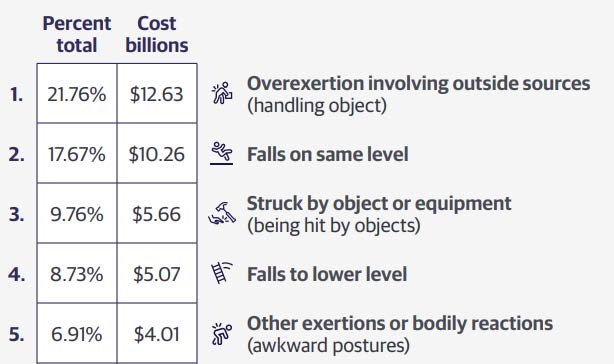 Key ergonomic problems include lifting, stacking, bending, reaching, and turning while handling materials. We work with Southworth Products on material handling equipment which helps with these key motions (plus more). Here we break down our top five picks for increasing ergonomics and decreasing injury risk.
Southworth PalletPal 360
If your company is manually palletizing products on pallets this is a great addition.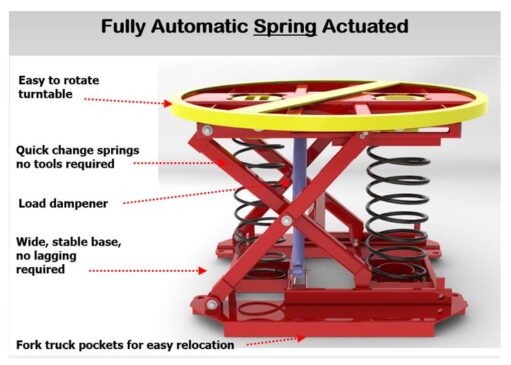 The PalletPal 360 Spring Pallet Positioner / Level Loader is the original, automatic, self-leveling, spring pallet leveler that makes loading and unloading pallets faster, safer, and easier. The PalletPal 360 is a simple, automatic load leveler which uses a system of springs and shock absorbers to lower and raise loads as boxes are added or removed from pallets. A turntable top allows nearside loading and unloading. No power or air supply is required. Pallet loads up to 4,500lbs can be easily handled by the PalletPal 360 Spring pallet leveler.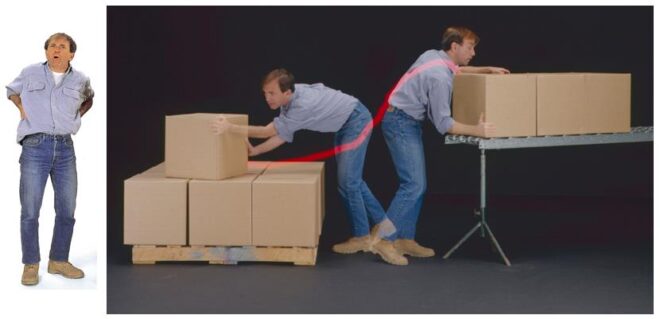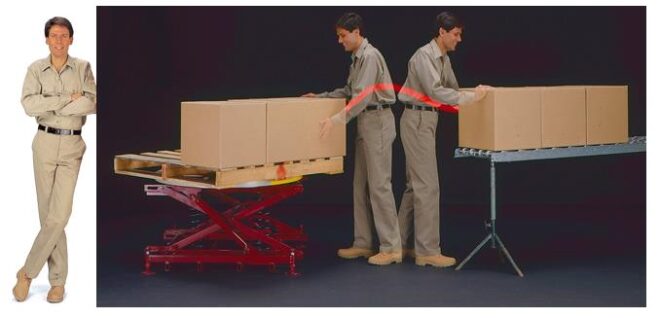 Features include:
Self-leveling action no operator adjustments required

Rugged tubular steel frame for loads up to 4,500lbs

Heavy-duty springs calibrated to bring pallet to most convenient height

Proven linkage design maintains level under uneven loading

Dampener providers smooth, gradual raising and lowering, without overshoot or bounce

Low-friction bearing supported turntable for near-side loading and unloading

Phenolic frame cover (optional)

Fork pockets for relocation by fork truck also extend base for free standing stability

Leveling feet (optional) allow use on sloping or uneven floors

Free standing, can be easily relocated by fork truck

Automatically adjusts as boxes are added or removed

Unique spring mechanism requires no electrical power

Works with loads from 400 to 4,500 lbs

Turntable platform spins loads for easy access

Fork pockets for easy relocation

Custom finishes including two-part epoxy corrosion resistant coatings and stainless steel available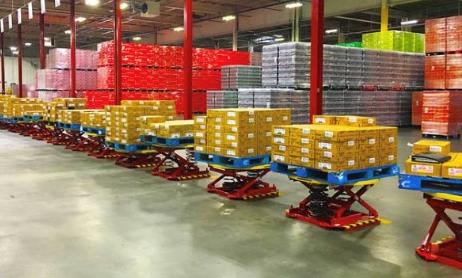 Unlike competitive pallet levelers/pallet lifters, the PalletPal 360 spring level loader offers workers complete 360 degree access to loads. All of its components are contained within the diameter of the turntable ring. There are no protrusions, projections or obstructions, so reach-over zones are eliminated.
Southworth Roll-On Level Loader
When you need a hand pallet jack accessible pallet lifter the Roll-On Level Loader provides easy accessibility. With internal hydraulic power, the PalletPal Roll-On Level Loaders lower to floor height so pallets can be rolled on and off with a hand pallet truck. The lift is then easily adjusted by pushbutton or foot switch control to maintain an ideal height for manual loading and unloading. The narrow side and back panels allow for easy reach over for 4 side access.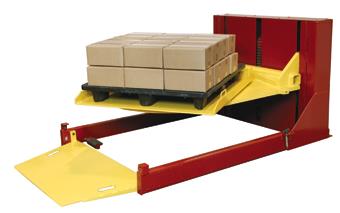 Photo-eye provides toe protection

Platform locks in partially up position to allow relocation by means of a hand pallet truck

Available one-touch auto leveling provides up or down adjustment by a preset increment at the touch of a button
Southworth Pallet Inverter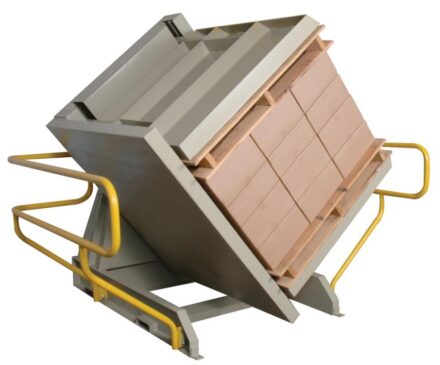 If and when a forklift tine rips a bag or a box, the solution used to be to offload the entire stack to access the bad bag pull it out replace it and restack the pallet. Not anymore! The pallet inverter can flip the load in seconds, making swapping broken bags and boxes faster, safer and easier.
With the ability to handle pallet loads measuring up to 48″ x 48″ x 84″ high, the Southworth PalletPal Rotator/Pallet Inverter is a simple, ruggest machine designed to invert entire pallet loads. The pressure adjustable clamping mechanism easily secures loads up to 4,400 lbs and rotates them 180 degrees on a massive anti-friction turret bearing. The PalletPal Pallet Rotator / Pallet Inverter eliminates the need for manually restacking pallets.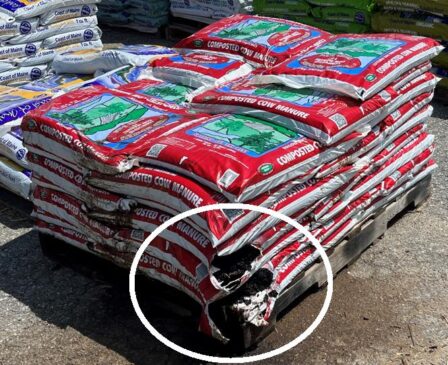 Here are just a few uses:
Replace broken pallets

Switch loads to/from in-house shipping pallets

Transfer from pallets to slip sheets

Replace damaged goods at the bottom of the load

Portable Container Tilters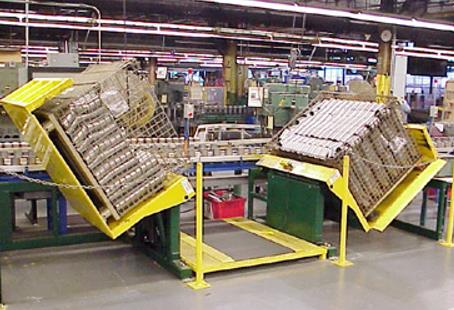 Manual loading and unloading of wire baskets, containers, and Gaylords may lead to incidents of upper and lower back injuries. E-Z Reach Portable Tilters have casters that allow them to pick up staged containers and move them to the work cell. Baskets can be tilted up to 85 degrees to allow easy access to parts. E-Z Reach Portable Container Tilters are available in 2,000 and 4,000 lbs capacities and feature 12 Volt DC power and a built-in charger (AC power is available). Choose a fork-over design (PTU model container tilter) for containers with open bottoms or straddle design (SPTU model container tilter) for containers with reinforcing bars or closed bottoms.
Lifter / Transporters
Lifting and carrying items from stockrooms, onto shelving, or into production areas can be a source of injury and product damage. Lifters are available in powered form for frequent elevation changes or with foot pump actuation for infrequent elevation changes.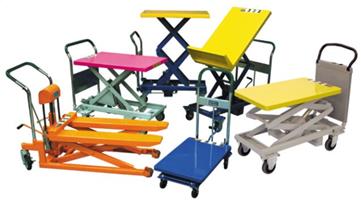 The Dandy Lift line of manual foot pump lift tables/lift carts has set the standard for quality and longevity in portable lift tables for over 30 years. With several models to choose from there's a Dandy Lift Portable Lift Table for every application. The battery powered units have high speed linear actuators, and the Dandy Leveler is self leveling by automatically adjusting the platform height as items are added or removed. Southworth has options for more heavy duty use like the Backsaver Lite Portable Scissor Lift Tables with manual or powered traverse, PalletPal mobile levelers and Pallet Lift (high lift pallet trucks/skid lifters). Wherever lifting, positioning, assembling, stacking, unstacking, transporting or the need for an adjustable height work surface is a part of the job lift tables are essential.
What types of material handling equipment do you use on your floor? We're here to help do a safety audit and recommend appropriate additions. Oftentimes insurance companies are able to offer their customers safety grants to purchase equipment/supplies that focus on safety-related improvements. Ask your HR or Safety Department for more information.