In our business we find a lot of customers shipping to stores or working off margins that seem to not allow for that "premium" thrill that is so common with the very trendy #unboxing experiences seen across social media the last few years. While celebrating the holidays this year you may have taken notice to some pretty cool packaging that sparked your interest and got you thinking, "Can we do this too?" 2018 is in full force and blogs everywhere are outlining the trendiest retail packaging predictions.  We couldn't help but pass along some easy ways to team up with your marketing department to take your industrial packaging to the next level and get you remembered by your customer in unexpected ways.
But first, you might be asking yourself, "Why all the attention on industrial packaging branding?" In a poll by Sealed Air, a leading void fill expert in the world, 66 percent of customers believe the packaging of their shipment reflects how much a brand cares about them. Another 68 percent say that they are more conscious of packaging today than five years ago. When you walk into a store the displays have been specially crafted to make customers more intrigued to explore.  Customers now expect the same feeling when they open your package at home on the couch – smartphone in hand ready to post a photo with your company's stated hashtag.  That's where exciting packaging merges functionality and marketing.  To form this partnership between your purchasing, quality control, and marketing departments here are top options that work in the industrial market.
BRANDED TAPE: WATER-ACTIVATED AND PRESSURE SENSITIVE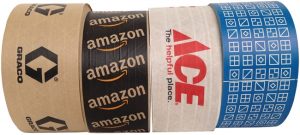 Printed water-activated tape has been popular for a long time but more consumers have become hyper-aware of its bold statement potential since companies like Amazon and Home Depot have dived headfirst into the industrial branding waters.  Depending on the application you might find pressure sensitive tape to be more favorable in your pack line set-up, but both options give your customers that extra kick of excitement.  Your logo and colors give a bold statement. Plus, it also adds a tamper-evident quality to your package. Not to mention all the hands that your package passes through from your warehouse to the front step now seeing your brand over and over again.
PRINTED BOXES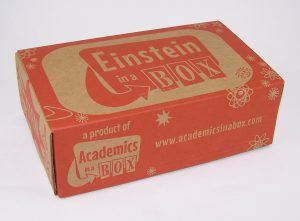 There are two great options here with unlimited designs.  For the customers that want a bold statement on the outside of the box consider block-out print or interesting patterns to make your package pop.  Or, for the customer that needs to be a bit conspicuous, consider printing for the inside of the box for when the customer opens up their package.  It's the extra "wow" factor you want your customers to remember.  Considering how many individuals reuse boxes for home storage it's a great way to keep your brand front and center.  This is also a great opportunity to say "thanks" by slipping a message on the inside flap for only your customer to see.  It's the personalized touch that sticks with a customer.
PRINTED PACKING LIST ENVELOPES

Depending on what you pack and who you ship to it might not make sense to use fully printed boxes, but if your products don't have branded labels a custom printed packing list envelope can help remind your customer where their product came from when they are getting low.  Rarely do people tear off the full envelope to a box – generally just cutting it open to grab the paper out and leaving the envelope behind stuck to the box.  A branded packing list envelope can give re-order instructions like a web address or phone number with your name and logo prominently displayed.
PRINTED BAGS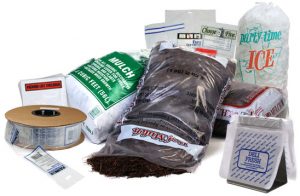 Many consumers reuse bags many times over and it's a great opportunity for industrial companies to take this opportunity to put their logo on it – keeping your brand top of mind.
VOID FILL
Sealed Air is currently changing the game when it comes to customized on-demand bubble wrap.  From bold colors to actual custom shaped bubbles like dog bones and hearts this is the way brands are making a wow-statement.  When it comes to paper packaging Ranpak's Geami line gives that curated feel with reliable cushioning. Companies can now give customers a "gift-wrapped" feel with their regular industrial packaging.
PRINTED SHRINK FILM or STRETCH FILM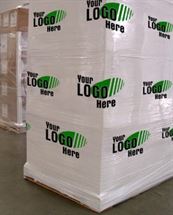 Very different products but similar branding opportunities.  First, how is your product being shipped?  If on an open truck bed this is the perfect time to talk to marketing about getting printed stretch film for everyone to see.  You have branded trucks so why wouldn't you brand your products when they aren't in the truck?  As for shrink film – it is one more layer of blank canvas ad-space that can give your brand that extra boost in the consumer's eyes.
This was a quick run-down of our most popularly branded packaging materials with endless possibilities. If you are looking to give your customers one more reason to come back next time they order consider their experience while opening your package at their front step.