Event coordinators around the world have it made for the month of October.  Between Oktoberfest events (cheers to you, Reading Leiderkranz – the best in all the US lands), Fall Festivals, our own local Yorktoberfest and all the pumpkin spice someone can take it is a busy time of year for everyone, including breweries.
Central PA's local micro-breweries have been popping up left and right to add to the already hoppy landscape with big-time brewers like Yuengling, Tröegs, and Victory.  It's exciting to witness and gives us the opportunity to demonstrate our complete line of marking and coding equipment and inks with local service and support.  Whether it is a small date code or printing-on-demand we have options that can fit in-line with operating packaging lines or hand-held devices for on-the-go shops.  Here are some of our favorite options available now for all customers utilizing marking and coding technologies:
Digital Design's EV4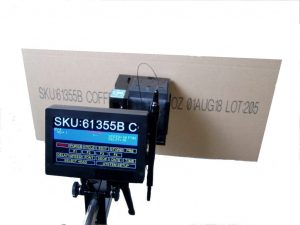 One of our most cost-effective and popular options is the Evolution 1 and Digital Design is now upping their game with the release of the EV4.  The EV2 and 3 both brought some great features for the right candidate but the EV4 is truly making waves.  The new printhead allows for up to 1" of fully formed print including barcodes and graphics – something that could only happen by stitching multiple printheads together in the past.  Control the 110 foot per minute print with the 4.3" color touchscreen controller for applications including date code, barcodes, logos, and more.  Ask us about demoing this unit!
Matthew's Marking eSolarMark Fiber Laser Coding System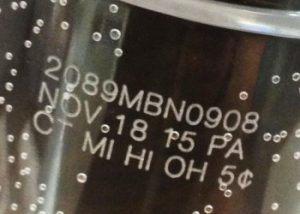 This system was designed to provide high quality, permanent marks onto aluminum cans for the craft brew industry (and beverage industry as a whole). Breweries, much like food manufacturers, are looking for ways to eliminate ink chemicals, reduce mess, improve mark appearance, and reduce the cost per mark. With vector-quality marking and the elimination of solvent and ink consumables into the waste stream the eSolarMark Fiber Laser Coding System etches the surface of the substrate to deliver your message.
Digital Design's Evolution Handheld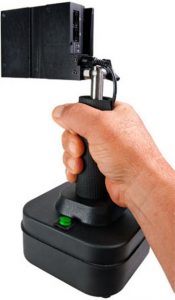 We understand not everyone has an in-line conveyor system, that's where Digital Design's Evolution Handheld really comes in handy.  While working with Digital Design's other leading printhead models, this hand-held is perfect for the company that needs flexibility in movement without compromising the quality of marking. The EVHH is perfect for the company not running conveyor systems but still needs reliable coding.  A few great example applications include customers using large gaylords, building supply manufacturers, oversized cumbersome skids, super sacks, security codes on wrapped pallets, and customers looking to replace hand stenciling.
Matthew's Marking MPERIA Controller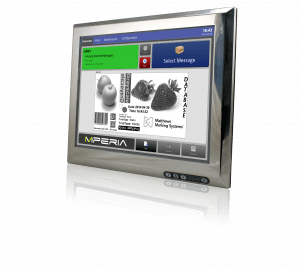 This is the controller that every operation needs that has multiple packaging lines with multiple coding configurations set up.  The MPERIA manages multiple print technologies including high resolution piezo ink jet, high resolution thermal ink jet, laser and drop on demand valve ink jet – all from a single interface. One thing we see a lot of in the industry is companies that have added on different technologies throughout the years which can be really time consuming to maintain.  Matthews recognized that as well and made this controller to bridge the gap. Not only can you link Matthew's software together into one controller but the MPERIA amps up your control by allowing you to hook into other competitor software systems as well.  That means you no longer have to go to each and every station to reset codes – now do it wirelessly and with much more ease and speed.
The above is a run-down of some of the most common and convenient options we see our customers needing.  Each pack line is different and we understand that, that's why we know meeting with you and seeing your operation first hand can help us recommend the best product for your immediate needs and future goals.  Many of our systems are as easy as plug-and-play and we stock several options on our floor for immediate delivery. Give us a call or contact your Sales Representative today for more information!