Whether you're a B2B or B2C company your company's reputation keeps them coming back. When it comes to that reputation the easiest leave behind is within the branding itself. How do you know if branded packaging is right for you? It's a common phrase of manufacturers, retailers and resellers: "If you have a competitor in the marketplace, it's right for you." But, you want packaging that makes sense (and cents). Here are our easiest packaging upgrades to take advantage of this year when working with your marketing and operations departments:
Printed Boxes
One color logos and branding look memorable pre-printed on cartons and are an easy upgrade with reasonable quantities. Can't do all of your boxes? Consider stocking your highest moving box with your logo for the best ROI. Or, do you have different ordering methods like indirect (through a retailer) or direct (through Amazon, Ebay, Etsy, etc)? Deciding to tackle the direct sales first can give you the highest level of ROI. Plus, we now offer full color printing for orders of 250 or more without printing die plate charges. Our partnership with a leading box manufacturer allows us access to an 80 ft printing press – the only one currently operational in the United States with short lead times.
Printed Tape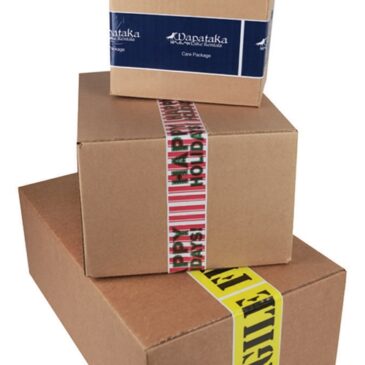 Bold coloring, font, and logos make any kraft or white carton pop in shipping and on the doorstep. To gauge the popularity of printed tape ask yourself, "When was the last time you saw a box on your front step without it?" One way to do that is through one of the most popular options – Water Activated Tape (WAT). But, did you know "back in the day" water-activated tape had all but died off in the packaging industry during the 1970s? It was actually invented by Thomas Edison in 1912 and was a replacement for twin when holding boxes closed. It was revolutionary for a long time until acrylic and hot melt tape technology took over. But, because of Amazon, WAT tape made a huge comeback 10 years ago and is now one of the most popular ways to brand a box easily and effectively. We offer low 5-case minimums for both WAT and hot melt custom printed options!
Master Carton Messaging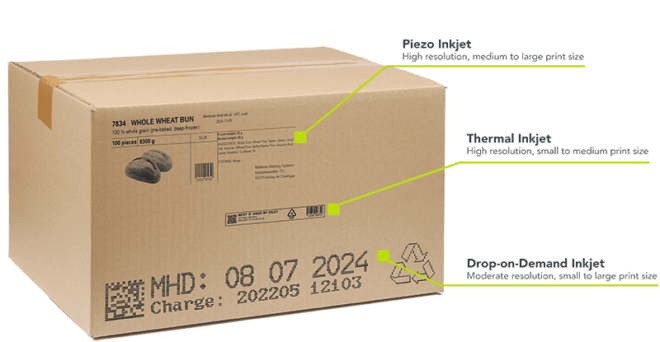 This is a great option whether you work directly with your end-user or through a third party shipper. Craft your customer service experience to your audience with QR code surveys, additional product info, or current promotions/product releases with multiple inch print. Or, if you are a co-packer, increase your value by quickly changing customer messaging based off who you are packing for. Marking and coding on demand has been revolutionized in the last few years from the inks and equipment to the technology capabilities for usability. Pre-program messages based off the line you are running or work with our partnered engineers to scale your messaging based off database information. Master carton messaging has been a game changer for food manufacturers, building suppliers, agricultural, and more in particular.
Printed Stretch Film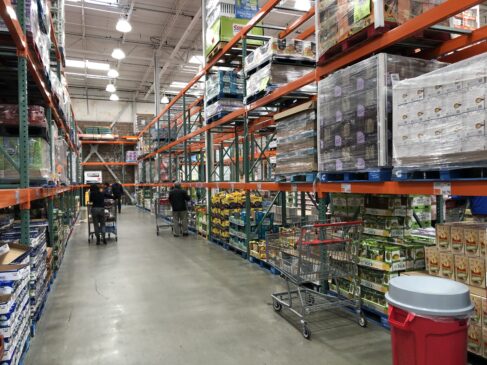 We've seen an increase in popularity for printed stretch film for suppliers to wholesale clubs, manufacturers that ship on flat beds, and for building and landscaping products that sit outside fully wrapped until use like mulch and bricks. That material is your free billboard space on the road and in the racks. Thinking of printed stretch film, we also work with companies that want to quickly identify products on their floor for returns, hazmat, or other specialty considerations through tinted films like red or green. Whether it be hand film or machine film we have the options to get the messaging you want across internally and externally.
Industrial branding looks different for everyone, and these are just a few examples we offer solutions on. We can help elevate your branding from the label to the pallet. Give your salesperson a call to start the discovery process – your competitor already has!