Orion Packaging has a deep line of stretch wrappers. With the (still pending) 2020 PackExpo in Chicago coming up quickly it had us thinking about some of our finds in 2018. Orion debuted their newest Sentry iteration during the expo and it remains one of the best entry-level wrappers on the market for its low price, reliability, and onboard pre-stretch capabilities.
Check out some of the key features for the LP and HP versions: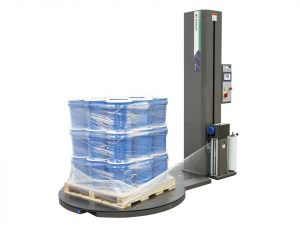 200% powered prestretch film carriage: Helps you save on film costs and give you a superior holding force compared to hand wrapping or mechanical tension wrappers.
IntelleVue HMI: Full color,high resolution 7" touchscreen display with powerful microprocessor to stores recipes, user-manual and more!
3 Year warranty: Backs time tested designs and built to give you year after year of dependable, trouble-free operation with steel construction, heavy-duty components and reliable electronics.
4,000 pound weight capacity: On maintenance-free turntable with 52" x 52" x 80" load capacity.
12 Revolutions per minute: Delivers steady wrapping performance.
RevoLogic technology: Precisely applies the correct number of top and bottom wraps compared to competitive models.