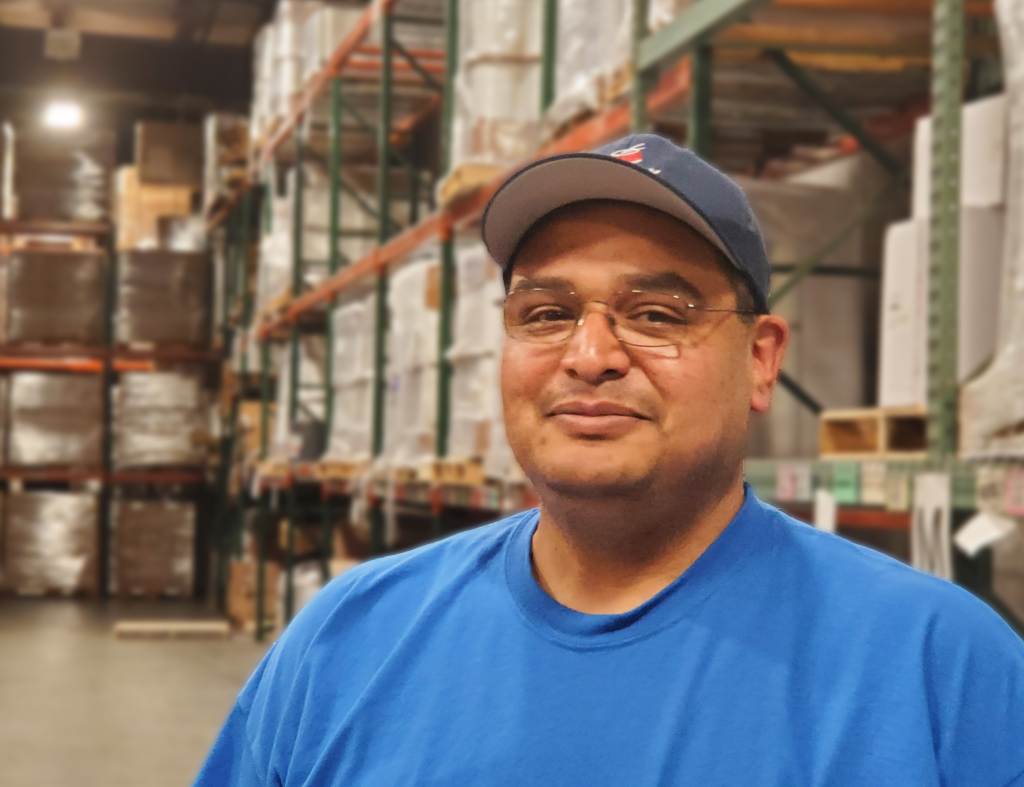 We've been making a lot of changes here at Colony in the last 12 months. We went full force last January implementing a new ERP system which set us up for a warehouse management system (WMS). In October we launched our first ever WMS system while simultaneously welcoming some new team members to our warehouse and transitioning roles of existing members. We sat down with Lauro Moreno, our Warehouse Manager, to talk about some of those changes.
Lauro came to us in 2019 after fellow co-worker Randy mentioned it to a mutual friend. Lauro started out picking and pulling orders and working in receiving. In October he was promoted to Warehouse Manager after showing strong initiative, leadership, and enthusiasm for great new ideas. The following is a quick Q&A with Lauro regarding the WMS transition, how it has improved Colony's service to our customers, and his role at Colony.
What has changed in operations since taking over as Warehouse Manager?
Since starting 3 years ago we had a lot more paper and now we are becoming more paperless in our warehouse. Before becoming Manager we weren't even doing WMS yet. We went forward my first week with launching WMS. I had a choice but I thought sink or swim and we did it. Things have changed for the better like receiving and locating products. There is more efficient picking of the products. I think we know more ahead of time for deliveries so planning loads ahead of time is easier too and alerting customers to changes is easier. WMS has made things a lot simpler and faster.
How has the warehouse team and operations changed since you started?
We used to have single roles before I took over, but now I am working on cross-training everyone so no one is stuck in a particular role. Everyone is learning everything to create more of a team environment. It is helping everyone become more educated with the system, and allows everyone to help the team out in a greater way. It has also helped with communication and finding answers to problems faster. I also shifted my day to stay into the evening versus leaving earlier so we have been better able to refine our checking process to help decrease mistakes. We also changed the staging areas to not cross material going in and going out. Our labeling process has also changed which has been better for customer deliveries.
What goals have you set for yourself and the operations in the warehouse?
I'd like to continue cross training so everyone can slide into roles, but also I want to help the company grow. I want to be the one here when we need to punch more holes in the wall for receiving doors and add warehouse space. I know we do that by making sure we are sending out the right product and being available to meet our customers' needs.
What do you like about working at Colony?
What I like about working here is it is a family-owned business. But, not that it is just family-owned but it is family-oriented so it seems like everyone here is like one big family. Everyone is willing to help each other out. When we switched to the new WMS system it was a lot to handle, and no one cared about their title, they just stepped up to get the job done to move forward. It was really helpful and felt like no one was too big for any given job. Colony is also a trustworthy company. It there are problems they are going to fix it and they value their customers and their employees. The little turnover speaks for itself and the longevity of employees is really good. You don't see that much, and they keep in touch with retirees which shows me management really does care about their employees. That's why I like working here.
Lauro resides in Dallastown with his wife, three children, their Shih-Tzu Biggles, and new puppy Coco– a mini Australian Shepard. Lauro is an avid gamer and enjoys working in his vegetable garden.