Amazon.com has already revolutionized the way companies and customers think about e-commerce sales. Now, similar to Walmart, they are making waves in regards to how companies and customers are thinking about packaging and bringing that conversation out of the warehouse and to the forefront of a customer's mind.
Recently an article was published on how Amazon is suggesting packaging tips to its resellers to reduce packaging while still maintaining the integrity of the package while in transit.  If suppliers follow their tips they are promised better promotion across the site – something any company can benefit from.  The leading verbiage in Amazon's effort – to eliminate "wrap rage," but the spill-over effect is evident.
Amazon's initiative matched with hot phrases like "thinking green" and being sustainably-minded make it a great time for your company to start getting on board no matter your means of commerce.  That concept can seem tricky when you are in the business of shipping your products across the country or world, but when we break it down it's easy for any company to feel like they are in better control of their green-paved future.
Review Your Current Packaging
Taking a nod from an earlier post regarding right-sizing your carton we always suggest reviewing your actual packaging and deciding if it is performing to your company and customer's standards.  Reducing the volume of material that goes into your packaging might mean a totally different packaging configuration.  But, can it reduce shipping costs? Can it reduce waste in the landfill?  Can it improve damage rates or maintain low ones? Think responsible minimalism meets practicality.
List Your Packaging Goals
What are your company's objectives when it comes to reducing overall costs or material usage in the next five years?  Have you listed goals concerning packaging material, how you get your packaging, and how you package up what you ship?  Additionally, have you asked yourself what ROI you are looking for when it comes to considering a change in the packaging line to reduce labor hours?

Re-evaluating your packaging line for energy efficiency and material use.
Sometimes when we talk to customers they get stuck on only looking at reducing or changing up their commodity items – like tape or stretch film.  But in reality a big part of reducing material waste and cost is by investing in better-running equipment or maintaining the equipment already on the floor.  For example, we often come across equipment that hasn't been serviced for years. This lack of service leaves equipment running poorly and reducing efficiency which in turn leads to wasted materials and money wasted.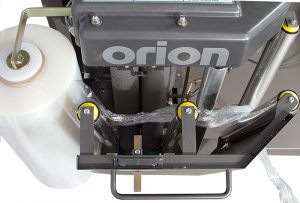 Understand where your materials are coming from.
Working with vendors that are close-by helps decrease fuel emissions when considering how far that material had to go to get to you.  The less your product had to travel means a decrease in your company's carbon footprint.  Similarly, if you have space to order in larger quantities that can also help reduce fuel emissions by reducing the amount of trips it takes to get material on your floor.
What packaging-minded tips do you have when it comes to reducing your company's carbon footprint while increasing efficiency?  We want to hear about them – leave a comment below to share your thoughts.